Tile & Grout Cleaning in Severn, MD
Hippo Carpet Cleaning of Severn is Anne Arundel County's tile and grout specialists. With our tile and grout cleaning service, you get more than just clean tile floors or shower stalls.
Tile & Grout Cleaners Who Care
Our technicians will take the time to fully examine your tiled surfaces, to make sure that the tile cleaning method, equipment and supplies will be the right choice for your tile. Whether your tile is ceramic or porcelain, glazed or unsealed, marble, slate, or some other kind of stone, Hippo Carpet Cleaning of Severn has the right solution for you.
Cleaner than Mopping
How clean is your tile and grout after you mop? It may not be very clean, and mopping may actually cause your grout to get dirtier, as the dirty water is absorbed into the grout. In addition, unless you always rinse with water after mopping, detergent can remain behind, attracting dirt to the sticky residue.
Our steam cleaning system gets your floor cleaner than mopping. We start by spraying an eco-friendly, diluted cleaning solution on the floor. The cleaner gets to work immediately, breaking down the bonds holding the dirt to the detergent residue, and softening dried on grease. Our steam cleaning wand uses extremely hot water to rinse away the dirt while suctioning it and the water almost instantaneously, for brighter, revived tile flooring.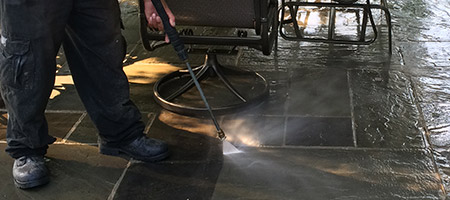 Grout Resealing
Grout sealing protects grout from staining and from damage due to excessive moisture. We recommend that you reseal your grout each year after our cleaning service, for grout that stays cleaner and lasts longer before needing to be repaired or replaced.
Tile Cleaning for Businesses
Tiled kitchens, bathrooms, entryways, and hallways are found in residences and in commercial properties of all kinds, so Hippo Carpet Cleaning of Severn is proud to provide commercial tile cleaning to our commercial customers. Whether it's the restaurant's kitchen and dining room, or your business' restrooms, clean tile with stain-free grout is sure to make an impression.
Our tile and grout cleaning methods follow the best practices in the industry, and your satisfaction is 100% guaranteed. Call today for your no-obligation estimate. 410-514-5202